Yashar Farahvash, DMD - Cosmetic Family Dentist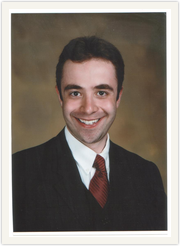 Doctor Profile
Specialty: General Dentist / Cosmetic
Type of Patients: Adult and Children (minimum age for children is 3 years old).
Languages Spoken: English and Farsi, and Azari
Sex: Male
~~~~~~~~~~~~~~~~
Education:
Boston Univeristy Goldman School of Dental Medicine, Boston, MA
Doctor of Dental Medicine (DMD)
Massachusetts College of Pharmacy and Health Sciences, Boston, MA
Doctor of Pharmacy (Pharm.D.)
Experience:
-Extractions
-Restorations
-Root Canals
-Dentures
- In office Zoom Bleaching.
- Home Bleaching trays using Vitalessence.
- Walk in Bleach Techniques for discolored Endodontically Treated Teeth.
- Veneers.
- Anterior Procera Crowns.
- Multi unit Anterior and Posterior Bridges.
.
Licensure and Certification:
Registered Dentist, Massachusetts
Memberships:
American Dental Association (ADA)
Massachusetts Dental Society(MDS)
Academy of General Dentistry (AGD)
~~~~~~~~~~~~~~~~
Working Locations:
Waltham
:
Tuesday through Thursday (10:00am to 6:30pm -- Lunch 1pm to 2pm)
Saturday (9:00am to 5:pm)
Office Hours
Working Location and Hours:
Waltham:
Monday ( 10:00am to 6:00pm) -- Lunch 1pm to 2pm
Wednesday (10:00am to 6:30pm -- Lunch 1pm to 2pm)
Thursday (10:00am to 6:30pm -- Lunch 1pm to 2pm)
Friday (10:00am to 6:30pm -- Lunch 1pm to 2pm)
Saturday (9:00am to 4:00pm -- Lunch 1pm to 2pm)